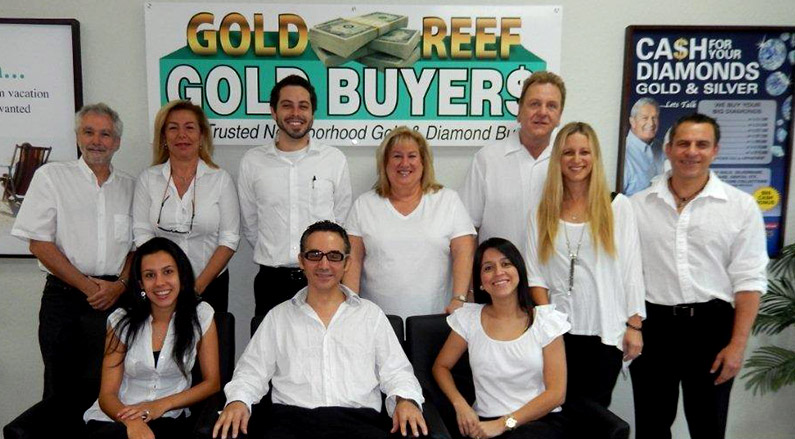 About Gold Reef Diamonds and Gold
The Diamond Company
Gold Reef Diamond Company buys Gold, Diamonds & Jewelry. We are a family-owned and operated company. Our family has been involved in the Diamond Industry for over 50 years, where we operated several diamond cutting factories in South Africa. Selected as one of the exclusive Sight Holders for De Beers, we polished Ideal Cut Diamonds to the highest quality of craftsmanship. Our diamond network, worldwide, ensures that we can offer you the best prices for your Diamonds. We are constantly buying and selling large and small diamonds and you can be rest assured that your diamonds are in the most knowledgeable hands. Our business experience and expertise spans three continents, yet our family values and sense of community brings us directly into your own neighborhoods, servicing the local people directly in our communities. Come in and see for yourself why we are recognized as 'The Diamond Company & Authority'.
From the mines to the manufacturer, from retail and direct to the public

Buying and Selling

Involved in every facet of the Gold & Diamond Industries

With over three generations of expertise in the Gold & Diamond Industry

Factories and offices spanning three different continents
We can genuinely say that we are 'The Authority on Gold & Diamonds, Silver & Watches, Estate pieces and Designer Brands'.

Gold Reef Estate Buyers:
We offer INSTANT CASH PAYOUTS, and a Premium Payout for your Designer Branded Jewelry and Vintage Estate Pieces

We are located in your very own neighborhood, and our stores provide a convenient, safe and discreet way for you to come in and speak with one of our friendly associates

All our associates are professional, knowledgeable & experienced people, trained in this particular field of expertise, with a strong commitment to customer service satisfaction

Gold Reef's business culture is based on relationship-building, trust and friendly referrals. Our MISSION is to make selling your Gold and Diamonds both a Pleasurable and Profitable experience for YOU!
Gold Reef Jewelers:
In the heart of Delray Beach, is one of the city's best kept secrets…Gold Reef Jewelers. This quaint Jewelry Store brings locals, friends and neighbors together in a friendly ambiance. Our large selection of jewelry includes both New and Pre-owned Jewelry, as well as Exquisite Designer Brands and Vintage Estate pieces.
All Jewelry is handpicked by professional Jewelry Appraisers, based on their originality and authenticity.

Only genuine Designer Brands are offered for sale.

Pre-owned Jewelry and Estate pieces are professionally polished and refinished to bring out their original lustrous shine.

All of the Designer and Vintage Jewelry are offered at UNBEATABLE PRICES!!
'WHEN YOU BUY FROM A MOM AND POP BUSINESS, YOU ARE NOT HELPING A CEO BUY A THIRD VACATION HOME. YOU ARE HELPING A LITTLE GIRL GET DANCE LESSONS, A LITTLE BOY GET HIS TEAM JERSEY, A MOM OR DAD PUT FOOD ON THE TABLE, A FAMILY PAY A MORTGAGE, OR A STUDENT PAY FOR COLLEGE. OUR CUSTOMERS ARE OUR SHAREHOLDERS AND THEY ARE THE ONES WE STRIVE TO MAKE HAPPY' -ANONYMOUS